LILI MARLENE DIETRICH
---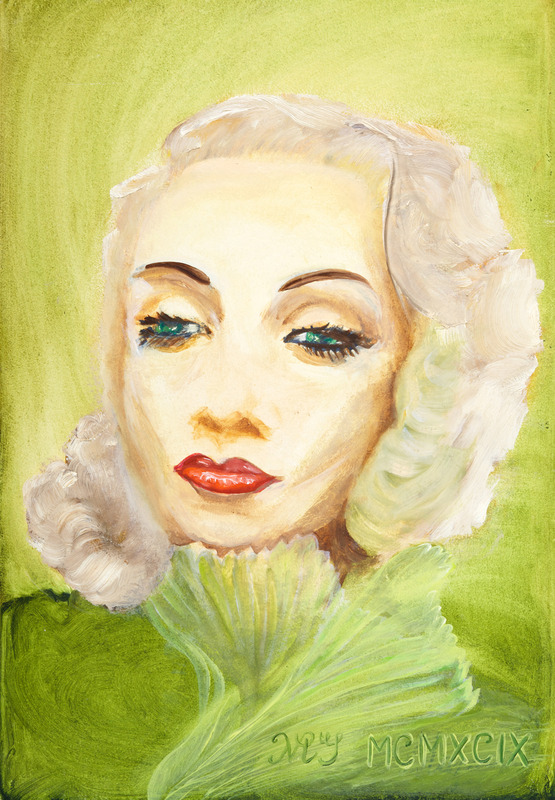 Sound track for the painting:
Marlene Dietrich. Lili Marleen (1939)
Aroma for the painting:
Yves Saint Laurent. Saharienne

Taste for the painting:
stuffed cabbage
Technique: oil on cardboard
Dimensions: 34 x 49 cm
Style: Positive Synergism
Private collection
Lili Marleеn — is a German love song, which became extremely popular during World War II with soldiers of both conflicting sides. However, the lyrics were written during World War I by Hans Leip, a schoolteacher, who later became famous as poet and artist. He wrote the words in the beginning of April 1915, when standing guard in Berlin, shortly before being sent to the Eastern Front:
Wenn sich die späten Nebel drehn
Werd' ich bei der Laterne steh'n
Wie einst Lili Marleen.
Wie einst Lili Marleen.
When the night mists swirl and churn
I stand by that lantern
As once Lili Marleen.
As once Lili Marleen.
In the name of Lili Marleеn Leip reportedly combined the nickname of his girlfriend Lili, daughter of a grocer, with the first name of another female friend, Marleen, who was a nurse…

The most popular recordings of the song were performed by Lale Andersen and Marlene Dietrich. The Soldiers' Radio used the tune every day to sign-off the broadcast at 9:55 PM. Every front, every combat arm, even every division adapted the tune to their local necessities…

The Allied Soldiers' Radio used to broadcast the song performed by Lucie Mannheim with their own lyrics in German that contained "anti-war lament and a tragic accusation against" the Nazis. It was written as if a letter of Lili Marleen to her beloved on the front line, which ended with her wish "to see the one, who should be blamed for everything (i.e. Hitler) hanged on the lantern (streetlamp)"...
However afterwards, thanks to… though a weak but celestial, low and seductive, thrilling and exciting contralto, for the majority of the song fans the sweet and insidious melancholy of Lili Marleеn became most associated with Marlene Dietrich… Though, not only thanks to a particular type of Dietrich's limited vocal range, which allowed her to perform her songs to the maximum dramatic effect, but also thanks to chef-d'oeuvres by Josef von Sternberg, her massive success on the war front (often on rickety, makeshift stages), her $1 million insured legs, her top hat and tails, her daringly sheer "nude dresses" and rumors about numerous love affairs…
Marlene Dietrich was not just an actress and singer, sex icon and example of emancipated behavior; above all, she was a legend… the first blonde goddess of Hollywood! And even not just a legend, but the multitude of confusing legends, enticing myths, sophisticatedly fudged issues, tricky puzzles and public denunciations, starting with her birth and ending with her mysterious décès…
Unlike Dietrich's personal life, which was carefully kept out of public view, her professional celebrity was same carefully crafted and maintained…
It is a well-known fact that in December 1953, Dietrich was offered to appear live at the Sahara Hotel on the Las Vegas Strip, and it was the beginning of her one-woman cabaret shows. Maybe exactly this fact, not the homonymous famous female safari jacket - iconic piece from his collection, inspired Yves Saint Laurent for the creation of his perfume Saharienne… After all, Dietrich was a fashion icon herself, which even Stars would later follow… Remember the 35 kg gold dress? Her heavily beaded evening gown of silk soufflé, which gave the illusion of transparency? Her body-hugging dresses and her swans down coat? … Or her 18 wardrobe trunks, six of which were stuffed with shoes and 12 - with body-sculpting undergarments? … She created her own "the wild chic" style of a dream female with steel in her spine, who interpreted femininity as something audacious and provocative… In her understanding, the one representing the fair sex should embody a bright, confident style of a capricious and liberated personality preferring purposefully shocking flippancy and frivolousness …
She indeed had many partners in a sexual or romantic relationship, and all of them being famous or very famous… The writers Erich Maria Remarque and Ernest Miller Hemingway made their special marks in her life… Researchers like to repeat that Marlene Dietrich would carry along Hemingway's photo "with an intimate inscription: "To my darling Cabbage"… Why intimate? Why Cabbage? – Maybe because stuffed cabbage took honorary priority over the rest on her culinary list… And eating is really a very intimate process! – No, they were not lovers, though treated each other good-naturedly, caringly, affectionately, and lovingly…
However, who really was love of her life … – it was the French actor and military hero Jean Gabin – a superman, any woman is looking for… Even 30 years after their meeting she was saying that "he continues to considerably surpass all I was looking for in vain, and tried to imagine" and "he has kindled the fire in me, which will never go out" … She always kept the door open for him, that caused constant draughts in her fate…
At the age of 60, she spent a night with the President of one of the most influential states in the world… Her love life continued well into her 70s …

The final 15 years Marlene Dietrich spent mostly bedridden at 12 Avenue Montaigne in Paris, allowing only a select few—including family and employees—to enter the apartment. During this time, she was a prolific letter-writer and phone-caller… Her last romance happened at 90… with a youngster, shortly before her death…
Reminiscences of Marlene Dietrich
The wind has chilled rotting leaves to the marrow,
The fog has bogged down the buildings afloat,
Though the heat from the hearth upon waking is hovering
And sliding, like felt, on the parquet at home.
The frames with the worn-out photos
On the walls will get soaked with this warmth.
The photos with shadows of people
She might just have seen in her hopes.
B. Gogulan
So, what is the painting about? – It is about her mysteriously specific glance, which, "like the draught, one moment takes you in, the other – out"… And, about life, which, as it turns out, is at its pinnacle at 60, and at 90 does not end yet!